About Karen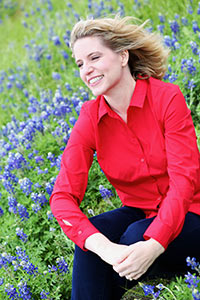 After growing up in California, Karen moved to Texas to attend Abilene Christian University where she earned bachelor and master's degrees in Psychology. It was also there that she met and married her own Texas hero. He roped her in good, for she has lived in Texas ever since. In fact, she fell so in love with this rugged land of sweeping sunsets and enduring pioneer spirit, that she incorporates it into the pages of her novels, setting her stories in the small towns of a state that burgeoned into greatness in the mid- to late1800s.
A life-long bookworm, Karen is living her dream by writing novels. Her books have consistently hit bestseller lists and have garnered awards such as the ACFW Carol Award, the Holt Medallion, and the Inspirational Reader's Choice Award. In addition, she is a multiple RITA and National Reader's Choice finalist. Karen is also a sought-after speaker for national writing conferences and regional workshops.
Karen's favorite aspect of her writing life is hearing from readers. Nothing encourages her heart more. She'd love to hear from you. You can contact her here.
Official Bio:
For those who love to smile as they read, bestselling author Karen Witemeyer offers warmhearted historical romance with a flair for humor, feisty heroines, and swoon-worthy Texas heroes. Recently voted #1 Readers' Favorite Christian Romance Author by Family Fiction Magazine, Karen is a two-time winner of the ACFW Carol Award and three-time RITA® finalist. Karen is a firm believer in the power of happy endings. . . and ice cream. She is an avid cross-stitcher, and makes her home in Abilene, TX with her husband and three children.